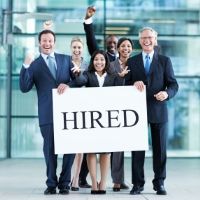 According to the Bureau of Labor Statistics' most recent figures, 29 states and Washington, D.C., have lower unemployment rates than they did in 2010. And in the most recently released month-over-month figures, 41 states saw an increase in nonfarm employment.
The year's winding down and even if the economy isn't as robust as it was a decade ago, it is certainly healthier than it was a year ago judging by these statistics. This progress, albeit slow, is welcomed by job seekers who remember how bleak the hiring outlook felt a couple of years ago.
And the companies that are hiring aren't necessarily putting their recruitment on hold in December just because it's a busy time of year. In fact, the end of the year presents several opportunities for job seekers. Some companies are preparing to spend their 2011 budgets and want to interview and extend offers to employees now so that they can begin in the new year. Other companies can't wait until next year and need to fill their vacancies now.
They need employees right now and you might never have a better opportunity to stand out than right now. While everyone else is pausing their job searches, you can stand out in a less crowded pool of applicants. Therefore, here are companies hiring in December:
Addus Healthcare, Inc.
Industry: In-home health care
Sample job titles: Nurses, therapists, regional managers, account executives, home care aides
Location: Nationwide
AkzoNobel
Industry: Manufacturing, specialty chemicals, performance coatings, paints, sales and retail operations
Sample job titles: Store associate, store manager, account manager, process engineer, chemist, field service representative
Location: Nationwide
Altec
Industry: Manufacturing
Sample job titles: Quality manager, field service technician, hydraulic field technicians, outside sales, trainer
Location: Nationwide
BBVA Compass
Industry: Banking / finance
Sample job titles: Bank teller, financial sales associate
Location: Texas, Alabama, Arizona, California, Florida, Colorado, New Mexico
Boehringer Ingelheim
Industry: Pharmaceutical
Sample job titles: Primary care sales representatives, R&D scientists, project managers, financial analysts, quality and validations
Location: Nationwide
CarMax
Industry: Automotive / retail
Sample job titles: Automotive technicians, detailers, sales consultants, management trainees
Location: Nationwide
Citi Trends
Industry: Retail
Sample job titles: Store manager, store associate, merchandiser, operations manager, manager in training
Location: Nationwide
Country Financial
Industry: Insurance and financial services
Sample job titles: Financial representative
Location: Chicago, Minneapolis, Iowa City, St. Louis, Atlanta, Nashville, Fort Collins, Tulsa, Kansas City, Phoenix, Portland, Bellevue, Wash., Brookfield, Wis.
DirecTV
Industry: Video technology
Sample job titles: Customer service representative
Location: Nationwide
General Dynamics Information Technology
Industry: Defense contract
Sample job titles: Network engineers, IT security specialists, network administrators, IT specialists, intelligence analysts
Location: Washington, D.C., Virginia, Maryland, Arizona, Florida, Massachusetts, Texas
Global Experience Specialist (GES)
Industry: Professional Services – Convention and Trade Shows
Sample job titles: Sale coordinator, account managers, exhibit services coordinator
Location: Los Angeles, Las Vegas, New York, Chicago, Dallas
Harbor Freight Tools
Industry: Transportation
Sample job titles: District manager, store sales associates, inventory, purchasing, supply chain
Location: Nationwide
Intercontinental Hotel Group (IHG)
Industry: Hotel / hospitality
Sample job titles: Hotel sales manager, general manager, hospitality
Location: Worldwide
Millennium Pharmacy Systems, Inc
Industry: Health care
Sample job titles: Pharmacy technician, pharmacist, billing specialist, pharmacy manager, project manager, consultant pharmacist, customer service representatives
Location: Cranberry, Penn., Orlando, Gaithersburg, Md., Philadelphia
MV Transportation
Industry: Transit
Sample job titles: General managers, fleet maintenance managers, fleet technicians, CDL drivers, safety managers, operations managers, director of accounting, proposal writer
Location: Nationwide
Northern Virginia Community College
Industry: Education
Sample job titles: Computer graphics and Web design teacher, political science teacher, development writing teacher, early childhood development teacher
Location: Annandale, Va.
Plymouth Auctioneering
Industry: Fine art sales / travel / entertainment
Sample job titles: International fine art sales and marketing
Location: Nationwide
REI Systems, Inc.
Industry: Software Development and Design
Sample job titles: Applications mockup developers, business analysts, database engineers, enterprise report writers, Java developers, Linux system administrators, .Net software engineers
Locations: Virginia, Washington D.C.
Saber Healthcare
Industry: Health care
Sample job titles: Director of nursing, physical therapist, occupational therapist, speech language pathologist
Location: Ohio, Pennsylvania, Virginia, Carrabelle, Fla.
ServiceMaster
Industry: Home and commercial maintenance, repair and care
Sample job titles: Sales agent, collection agent, lawncare specialist, outbound sales supervisor
Location: Nationwide
Target
Industry: Retail
Sample job titles: Cashier, sales-floor team members, logistics team members, food team members
Location: Nationwide
University of Utah Health Care
Industry: Health Care
Sample job titles: Electrophysiology lab manager, health information coder, outpatient coding manager, inpatient coding educator, inpatient and acute care pharmacists, medical unit and oncology unit
Location: Salt Lake City
Volkswagen Group of America
Industry: Automotive
Sample job titles: Quality engineering specialist, area after sales manager, industrial engineer, assistant manager (assembly, production control specialist), manager (sales and distribution)
Location: Nationwide
Wireless Advocates
Industry: Wireless technology / retail
Sample job titles: Sales manager, retail sales associate
Location: Nationwide